May 7th Mental Health Week Events & Activities
May 7th Banding Together: Join in as high school students and other youth from across the city band together for a series of videos on the importance of youth mental health.
Students from Seven Oaks School Division, Division scolaire franco-manitobaine, and the Manitoba Advocate for Children and Youth Ambassador Team have created individual videos on various social media platforms. Topics covered in the videos include:
How the pandemic has changed what it is to be a teenager
The impact of the pandemic on mental health and physical health
Rights to Youth Mental Health- a government responsibility
Please check our social media platforms on May 7th to view and share the amazing videos the students have put together!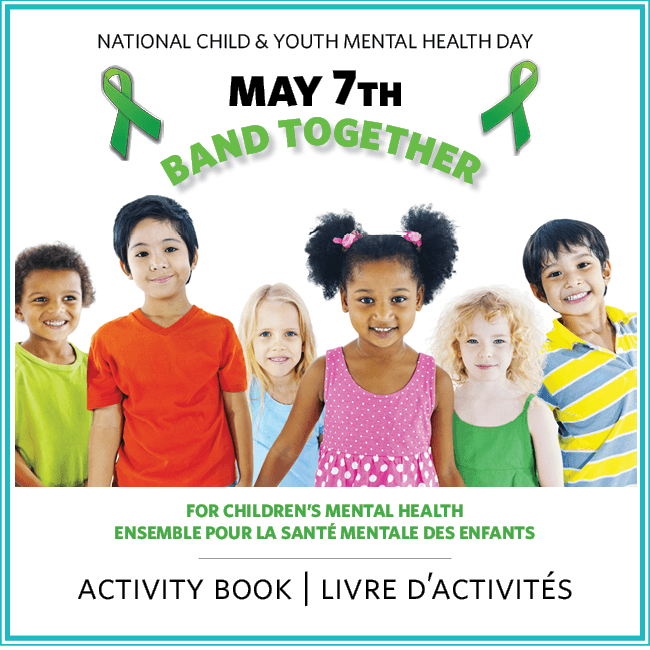 Check out this free, virtual mental health workbook for children and families. This bilingual workbook includes a variety of mental wellness activities for different age groups created and complied by the collaboration of community groups who have banded together in support of kids' mental health. Click here for the English version.
Consultez ce cahier d'exercices en santé mentale virtuel gratuit pour les enfants et les familles. Ce manuel bilingue comprend une variété d'activités de bien-être mental pour différents groupes d'âge créées et respectées par la collaboration de groupes communautaires qui se sont regroupés pour soutenir la santé mentale des enfants. Cliquez ici pour la version française.
Banding Together for Children and Youth Mental Health: An Evening of Hope, Health, and Strength for Caregivers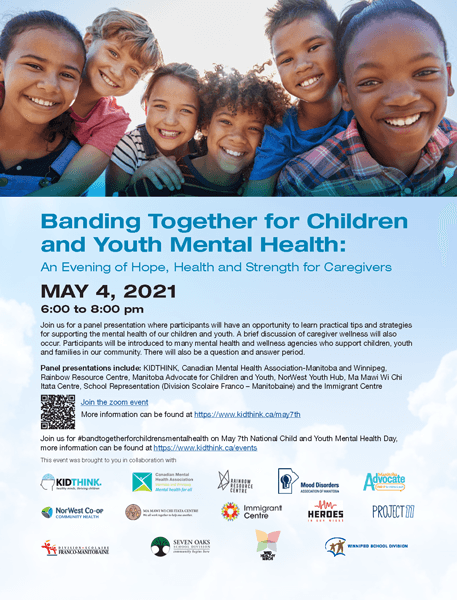 On May 4, a panel presentation took place where participants had the  opportunity to learn practical tips and strategies for supporting the mental health of our children and youth. A brief discussion of caregiver wellness was also held along with a question and answer session.  Participants were introduced to many mental health and wellness agencies who support children, youth and families in our community. 
Panel presentations include: KIDTHINK, Canadian Mental Health Association-Manitoba and Winnipeg, Rainbow Resource Centre, Manitoba Advocate for Children and Youth, NorWest Youth Hub, Ma Mawi Wi Chi Itata Centre, School Representation (Division Scolaire Franco – Manitobaine) and the Immigrant Centre